10 Healthy Smash Cake Recipes for Your Baby's First Birthday
This first year flew by, and now your baby is about to turn ONE! Can you believe it?!
If you're anything like me, just because your baby is turning one doesn't mean you suddenly want to overwhelm their system with tons of sugar and unnecessary additives. Not to mention your baby may have allergies or sensitivities that you need to avoid. 
You're on the hunt for some healthy options that you can use for your baby's party and smash cake photo shoot. You want an option that will help maintain your baby's palate for healthy foods while steering clear of store-bought cakes that often contain processed sugar and artificial food dyes and preservatives. 
In this post, I'm going to be sharing 10 healthy smash cake recipes for your baby's first birthday. This list includes gluten-free, allergy-friendly, no added sugar options, and more. I'm sure you'll find something to help celebrate this monumental milestone!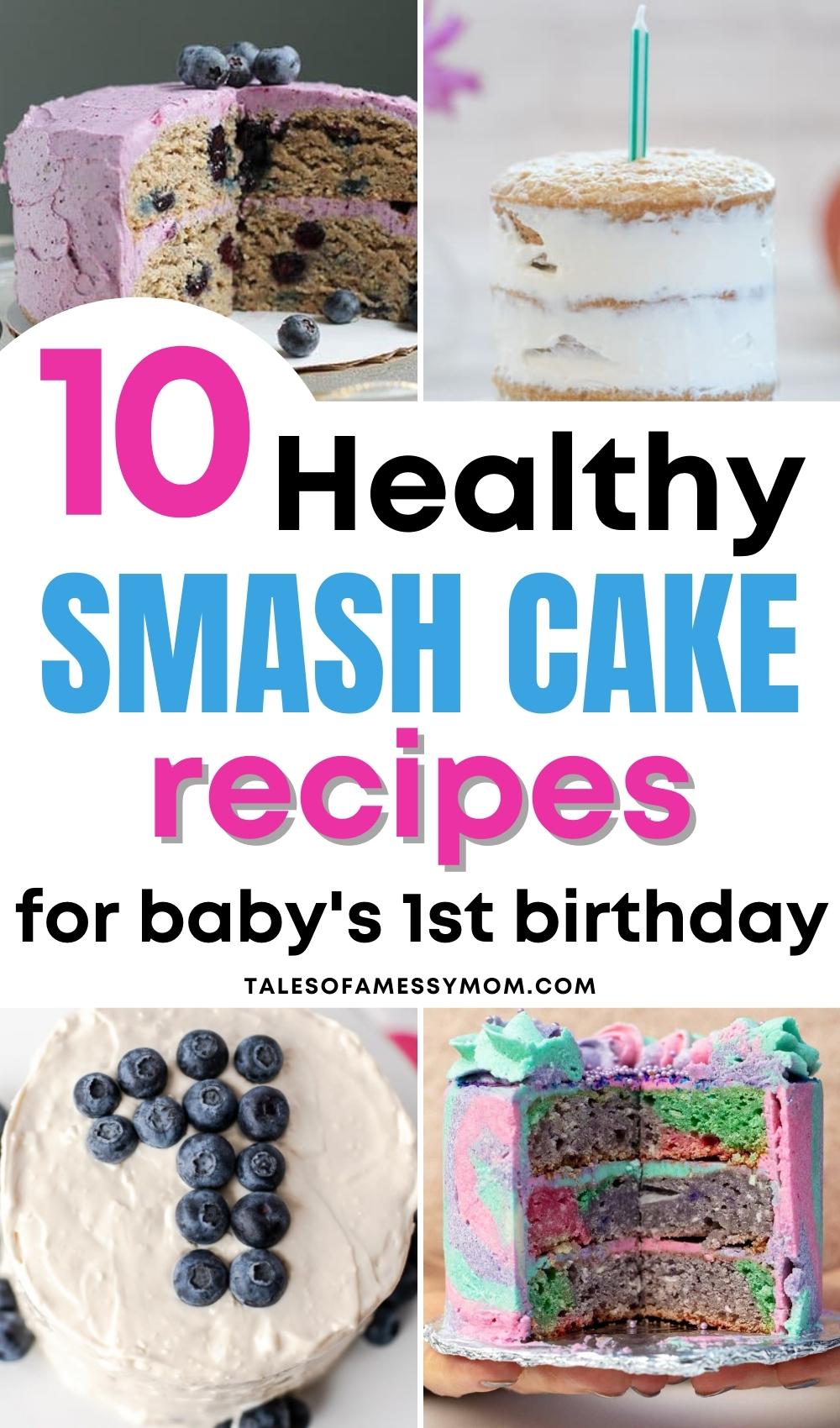 *Just so you know, this site contains affiliate links. As an affiliate and Amazon Associate, I earn from qualifying purchases. See my full disclosure here. 
10 Healthy Smash Cake Recipes
Photo and Recipe by Haute & Healthy Living
This homemade healthy smash cake is the perfect treat for a baby's first birthday and is so easy to make! Made with no added sugar and sweetened naturally with banana and applesauce. Such a great pick for gluten-free and paleo families.
Photo and Recipe by New Ways Nutrition
A birthday cake only sweetened with fruit! 
If you know a baby who is all about strawberries, this cake is for them! This recipe features freeze-dried strawberries in the cake and also in the homemade whipped cream frosting, giving it that amazing tangy taste that pairs perfectly with the bananas in it.
Photo and Recipe by Fit Mama Real Food
With a drool-worthy cream cheese frosting, this banana cake could be topped with blueberries or anything really.
It has applesauce instead of added sugar and is made with einkorn flour, which is known for being full of nutrients, antioxidants, and more protein than your average flour. The sky's the limit with this one, and if you are worried about how it will turn out, Fit Mama Real Food has it down to a science, complete with answers to every question you might think of.
Photo and Recipe by Yummy Toddler Food
This beautiful blueberry cake is made with both whole and freeze-dried blueberries. The recipe has no added sugar, is free of eggs, and Amy over at Yummy Toddler Food even gives you some tips on how to make it gluten-free and dairy-free, making it a perfect option for a baby with allergies. If you want to minimize tasks on the big day, you could make the cake a day ahead and pop the layers in the fridge overnight.
Photo and Recipe by The Artisan Life
In this recipe, you use a blender to combine your ingredients, one of which is flaxseed. Flaxseed is so nutritious because it is high in omega-3 fatty acids and fiber. Frosted with whole milk plain Greek yogurt, this one might take the cake for being best for your little one's health.
Photo and Recipe by Vegan Dollhouse
This option is perfect for summer babies and tropical island fans. This fun, healthy cake has a coconut vanilla flavor and beautiful pastel colors made from natural food coloring, reminiscent of all things unicorn. Not only does this cake look delicious and still manage to be a healthy vegan option, but Vegan Dollhouse also offers advice on multiple different frosting techniques to make your one-year-old's birthday a smashing success.
Photo and Recipe by Kristine's Kitchen
This healthy smash cake made with whole wheat flour will hit the sweet spot with bananas, applesauce, and maple syrup instead of unwanted refined sugars. The recipe is free of butter, made with 100% whole grains, and the fresh blueberry whipped cream puts the icing on the cake. Kristine's Kitchen even includes a video to show just how simple it is to give your one-year-old a healthier option.
Photo and Recipe by Nourish Every Day
This healthy recipe is naturally sweetened with fruit and even sneaks in a bit of veggies! It uses a combination of almond flour and oat flour, packing in whole grains and even more yumminess. This healthy, wheat-free option can be made in advance and stored in the fridge to help minimize stress for Mom (or Dad) on the celebratory day. 
Recipe by Buona Pappa!
Okay, so not technically a cake you can smash, but it certainly is healthy! If you have a fruit-loving baby like mine, then this might be the perfect option to celebrate their first birthday with. Especially if you have a summer baby. And bonus, you'll feel great knowing that it's loaded with nutrition. The zoo animals make it extra adorable, but you could always switch out the cutouts to match your party's theme.
Photo and Recipe by iFoodReal
If you're okay with natural sweeteners and a bit of chocolate, this healthier cake may be a good fit. 
And, I mean, babies do tend to love what their mamas love. So if you both love chocolate, I'm just saying…
Just reading the ingredients will make your mouth water: maple syrup, vanilla, coconut milk, and even chocolate chips, being a few. The frosting isn't your typical frosting. It spreads easily and looks as buttery as can be, while still being a healthier option.
Happy 1st Birthday, Little One!
I hope this post gave you tons of healthy options to choose from for the celebratory day and that your little one has a fabulous first birthday! 
Which healthy smash cake will you make for your baby? Share your top cake picks in the comments below, and be sure to share this post with all your parent friends.